Specification and Design
The precision of perfect heat sterilization function is represented by a simple and by a linear design.
A slender design trying to reduce the number of projection from the wall is adapted considering the affinity as well for the hospital interior.
Relatively large corner radius was adapted by taking the familiarity into account in a linear design.
The flared skirt shape was considered for keeping the stability in movement and for the earthquake.

Heater
1300W/100V
Fan
MAX 200W/100V
Outlet flow (3 stage switching)
LO : 0.5m³/min (about 100W)
M : 0.7m³/min (about 700W)
HI : 1.0m³/min (about 1300W)
Power supply
AC100V (50Hz / 60Hz)
Power consumption
Average 300W/h
Electricity rate
about 3 yen / h (* assuming 1Kw/hr = 10 yen)
The maximum Dimensions
650 (W) x 400 (D) x 1320 mm (H)
Weight
about 80kg
Application volume
60m³
Others
Breaker function at a fall
* There's a possibility those plans will change
* High capacity 200V specification under development
100V specification
100V model is for indoor use.
It is suitable for use in the general ward and operating room due to a handy design and easier to move around.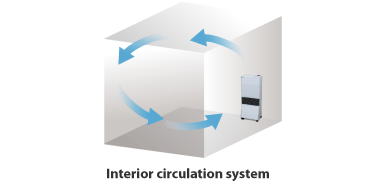 By using the one-pass sterilizing the air in a room where bacteria and Virus are floating,
the total clean space is created without any bacteria by circulating the clean air.
200V specification * Under development
It can be installed outdoors as well as indoors with the 200V model and creates a space of the positive and the negative pressure.
* If you want to use as a negative and positive pressure space, the installation of the duct is required.
| | | |
| --- | --- | --- |
| It takes the outside air to process with one-pass sterilization and feeds the clean air into a room. | It will release the clean air to outside after sterilizing the room air which contains bacteria. | It will release the air to outside while circulating to inside as well after sterilizing the room air which contains bacteria. |